Explain what duplex steel pipe fittings are ?
Duplex pipe fittings are pipe fittings made from the renowned material DSS which contains a combination of austenitic and ferritic steel. Project engineers usually prefer this SS over other materials for their amazing corrosion resistance, high strength, and toughness qualities.
Project engineers usually employ DSS pipe fittings to connect and control the fluid flow in all kinds of piping. These DS pipe fittings usually include elbows, tees, reducers, couplings, and flanges among others.
Duplex elbow manufacturer in India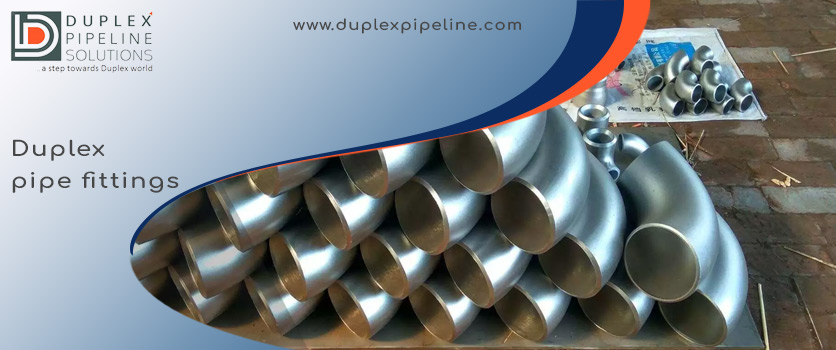 What are the different types of duplex steel pipe fittings
The DSS elbow is a pipe fitting used to change the direction of the flow in a piping system. A DSS tee has a fitting that has a T-shaped design which the fluids to branch off in different directions.
DSS reducer is a fitting used to connect pipes of different sizes. Caps and plugs are DSS fittings used to close the end of a pipe.
To get the best longevity of DSS tee, reducer, elbow in high and low-temperature, please connect with us
DSS fittings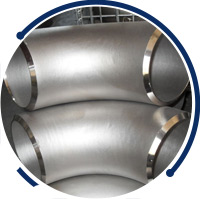 Duplex elbow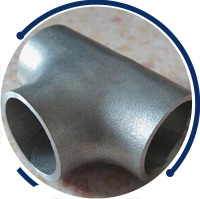 Duplex steel tee
Are DSS pipe fittings suitable for use in both high and low temperature applications?
DSS pipe fittings sturdily maintain their mechanical strength and integrity without deformation in high-temperature applications. It exhibits good creep resistance which refers to its ability to withstand prolonged exposure to elevated temperatures.
DSS can sturdily retains its toughness and ductility and withstand low temperatures without becoming brittle. This is why industries such as liquefied natural gas processing, and refrigeration systems highly prefer DSS.
Find here pressure rating for duplex steel pipe fittings based on the specific requirements of your application
Specification of duplex steel pipe fittings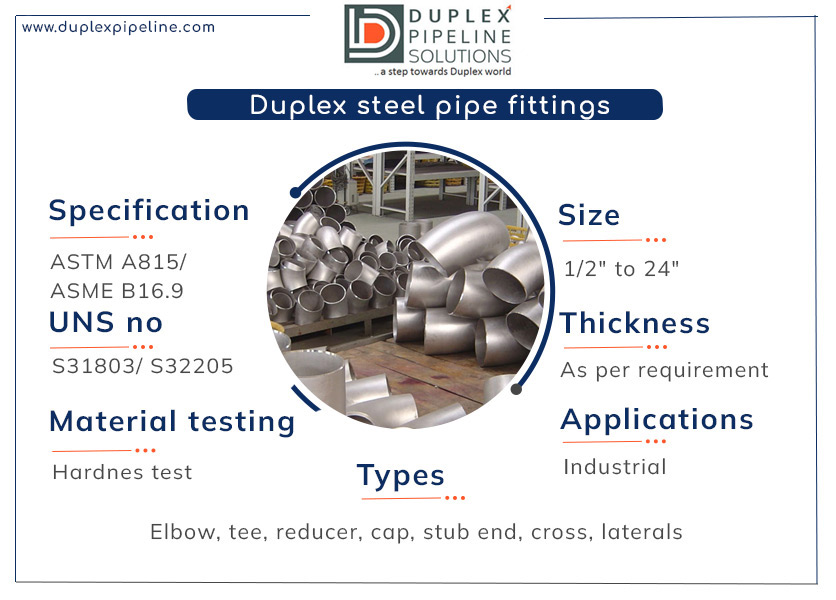 We are a leading duplex pipe fittings manufacturer in India, to know more contact us
To learn more about the benefits of using a duplex end cap in your piping system, view our product information and specifications
Types of duplex pipe fittings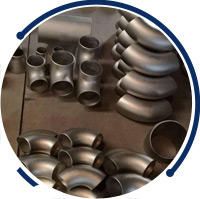 DSS buttweld fittings
Coating: 3LPE, FBE
Application: chemical
Size: 1/2″ – 48″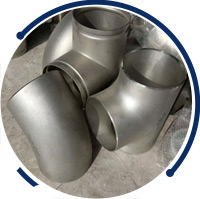 DSS fitting
Tensile strength: 60-95Ksi
Testing: hydrotest
Schedule: SCH5 – SCH XXS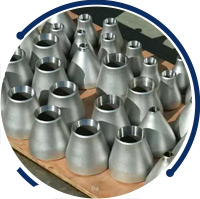 Duplex steel reducer
Method: seamless/ welded
Types: elbow, tee, reducer, cap
Yield strength: 415 MPa
Know more about the chemical and mechanical properties of duplex ss fittings and DSS reducers by browsing with us
Chemical composition of DSS fitting

Mechanical properties of duplex ss pipe fitting

Pressure rating of duplex steel fitting
What is the maximum pressure rating for DSS fittings?
Typically, DSS fittings are available in pressure ratings ranging from 3000 pounds Per Square Inch psi to 9000 psi for small fittings. For large-sized DSS buttweld fittings such as flanges, pressure ratings can sometimes extend beyond 10,000 psi. To obtain accurate and specific pressure ratings, it is recommended to contact the DSS pipe fittings manufacturer in India.
What are the benefits of using duplex end cap?
A DSS end cap exhibits sturdy resistance to a wide range of corrosive environments including chloride-containing solutions, acids, and alkaline solutions. DSS usually displays higher strength as compared to austenitic stainless steel and other grades.
By using DSS end caps, the overall service life of the piping system can be extended. DSS has good fatigue resistance which is crucial in dynamic or cyclic loading conditions.
What surface finishes are available for duplex steel pipe fittings?
We are duplex steel buttweld fittings supplier, our DSS fittings can be finished using various surface treatments to meet requirements and enhance their performance. Pickling methods are used for the removal of impurities, scale, and oxides from the surface of the fittings using acid solutions. Passivation is a subsequent treatment that creates a protective oxide layer on the surface, improving the corrosion resistance of the pipe.